Welcome to our Topic Page!
Here you'll find details of the various Topics that we'll use as a foundation for developing all the skills that we use in Year 1.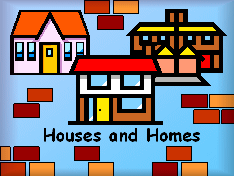 Our topic this half term is Houses and Homes. We'll be looking at the story of the Three Little Pigs and using this as a starting point to look at houses through history, the materials used to build houses and how to stay safe in our homes. Our Christmas work will be incorporated into our topic as we look at how we celebrate the season with our families in our homes - and of course the different ways Santa finds to enter homes if we don't have a chimney! The children will continue to develop their literacy and numeracy skills through the activities planned.
Our topic for the next five weeks will be Ourselves! We'll be looking at the story of Not Now Bernard and taking part in lots of different activites that arise out of the themes in the book. We'll look at our similarities and differences and investigate how our bodies work. It was wonderful to read all the comments on the Roald Dahl Padlet board - there's now a new Ourselves Padlet board on which the children can share some information about themselves. Just click on the link to the left!
During the first week we'll be focussing on routines and behaviour expectations, revision of number and letter formation, and assessment of current skills to inform the way forward.
Next week will be...Roald Dahl Week! We have lots of exciting activities planned, but as a starting point it would be great if everyone in 1M could share a fact, question or a viewpoint (perhaps their favourite book or character) with the class on our Padlet Wall which is accesible from the link on the left. Just double click on the wall, write your name, then comment beneath. I'm afraid I love Roald Dahl so much I got in there first!!