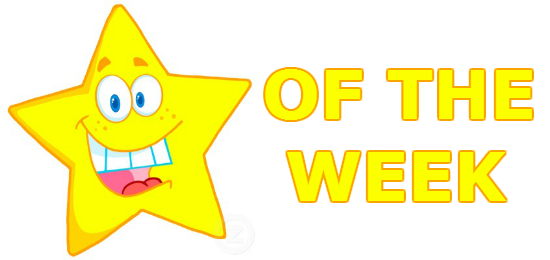 Our first Star of the Week who received the Head Teacher's award for exemplary behaviour and a great start to Year 1 is......Shaun-Pierre Chivers-Brown. Well done Shaun, we're really proud of you! Keep up the good work.
This week's star of the Week is Joshua Sterry who used his froggy fingers brilliantly to sound out all his words. Joshua wrote a factfile about himself independently. Da iawn ti! Keep the good work up!
Well Done Eve Elliott! You wrote an amazing holiday recount. What really impressed us was that you wrote it independently. You used your froggy fingers brilliantly, sounding out each sound and blending before writing.Da iawn.
Evan Cox is the Star of the Week for his amazing behaviour in the classroom, around the school and during breaks and dinner times. Not only that though, he's put in 100% effort to improve his handwriting, his sounding out and his reading and Evan, it really shows. Gwych!
Emilie Wathan, you gave us so many so many fantastic ideas for our Stick Man story, and also helped to write a great deal of it too. I think we have a future children's author in 1M. Well done, you deserved your star of the week award.
For amazing sounding out using her 'froggy fingers', Bella Scarpato won the star of the week award this week. Your work shows that you have listened and used your fingers well to spell unfamiliar words, and we are really proud of the writing that you've done this week. Da iawn.
We've started straight away on our Toy topic and Isabella Maniatt, you wrote such an amazing description of your toy Tigger, that you had to be our Star of the Week. You chose fantastic adjectives and your presentation was beautiful. Keep up the good work!
Emmy Gettings you obviously have a fantastic grasp of money. Miss Durston tells me that you used your money skills to solve word problems and added up three different coins. Well done Emmy!
Dylan Reed, you really impressed us with your maths skills this week. You solved the Place Value Money Problems in super quick time. We'll have to find some more problems for you now!