Miss Phillips Y6 Maths
Welcome to Miss Phillips' Year 6 Maths Page!
Click the picture above for practise ALFIE questions!!
Welcome to my maths resource page!!
You will also find more information on the school maths page, please click the picture below to find out more!

Maths is all around us, we use it everyday,
"No it's really boring!" did I hear you say?
Well maths can actually be really fun,
Here you will find lots of resources and a weekly update ( starting w/b 15.9.14) about what topics and skills we have been learning during the week. I will also be posting the times table that we are learning for each week and any new maths vocabulary that we are working on.
Homework will be sent home most weeks ( on Friday) , which will be linked to the work that has been undertaken in school. Please could this be returned the following Friday, thanks.
This website is super for explanations of maths terms and topics and also for games and activities. It covers most of the topics that we will be studying in Year 6.

WHAT HAVE WE BEEN UP TO ?????
w/b 15.9.14
This week we have been continuing our work on place value, decimals and rounding. We have been learning how to; read,write and order numbers up to the millions (including decimal numbers), round whole numbers to the nearest 10,100 and 1000 and order decimal numbers. This week, we have also been studying temperature and carried out a temperature investigation around the school. The I.C.T suite was very warm and Miss Phillips' temperature was 35 degrees C! We have laso learnt to order temperatures, including negative numbers and learnt that the bigger the negative number, the smaller its' value is ( as it goes further away from zero its' value decreases)
We have also been learning the following vocabulary:
ascending

- order fromsmallest to largest

descending

- order from largest to smallest

intege

r

- a whole number (including 0) including negative numbers e.g. -1 they do not include decimals

figure/digit

- other words for 'number'

square number

- the product when two numbers that are the same are multiplied e.g 2x2 =4 so 4 is the square number.

negative number

- whole numbers less than 0 e.g -1, -2, -3
We also learnt that tenths and hundredths are very small numbers indeed and that when you are rounding you can use the rule; 5 or more you round up, less than 5 you round down.
*THIS WEEK WE ARE LEARNING THE 6X TABLE*
REMEMBER YOU CAN DOUBLE YOUR 3X TABLE TO HELP YOU ( DOUBLE 3 IS 6)
Please click the picture below for games to play at home for supporting place value, ordering, rounding and decimals =] ( this website also has a variety of games to supporting learning across all topics )
Click me to go to TOPMARKS!

HOMEWORK FOR THIS WEEK RECAPS OVER TIMES TABLE STRATEGIES AND OUR WORK ON DECIMAL NUMBERS
w/b 22.9.14
This week, we have drawn a bar chart to show our findings from the temperature investigation. We used the I pads to do this, using a programme from the nces website. We have spent the rest of the week looking at multipying and dividing whole numbers and decimals by 10,100 and 1000. Click on the picture below, which explains how to multiply and divide by 10,100 and 1000, to play x and / by 10,100 and 1000 bingo =]

Click the picture below to practise x and / by 10,100 and 1000. This game will show you what happens when you x or / and includes decimals. It's great to show you visually what happens when x or / by 10, 100 and 1000- have a play around and see what happens!

This weeks times table is the 8x table!

*REMEMBER -YOU CAN DOUBLE THE 4X TABLE OR DOUBLE THE 2X TABLE TWICE*
Maths Vocabulary for this week
estimate/ approximate

= make an informed guess to help you

accurate/ precise

= getting the answer exactly right

increase

= add more/ make larger/becoming larger

decrease

= the opposite of increase- make smaller/ take away/becoming smaller

Degrees Celcius

= a unit of measurement for temperature

Degrees Farenheit

= a unit of measurement for temperature normally used in the U.S.A
w/b 29.9.14
We are going to be continuing with x and / by 10,100 and 1000 this week. We will also be recapping doubling and halving and will also be working on x 20 and x 50.
We have also been prolem solving, using the examples from The Welsh Government website. This in in preparation for the Numeracy tests next year and to enhance problem solving and reasoing skills.
Homework has been sent out today and recaps over the work that we did last week. Please send in homework by Friday =]
*HOMEWORK OVER THE WEEKEND IS TO VISIT THE GAMES LINKED TO THIS PAGE TO CONSOLIDATE THE WORK WE HAVE DONE IN CLASS SO FAR*
This week we will be looking at the 12x table

* REMEMBER YOU CAN DOUBLE YOU 6X TABLE OR YOU CAN X10 AND X2 THEN ADD TOGETHER *
Maths vocab
*

prime numbers

- a number that can only be divided by itself and 1 e.g. 2, 3, 5, 7, 1...
*

double-

where you add two of the same number together- you can also x 2
W/B 6.10.14
This week we will be continuing with our problem solving and reasoning activities, in which we explain our methods for solving problems. We will also be learning about the maths family of four:
*The Multiplication Twins and Mum & Dad the Dividers*

Click the picture to find out more.........
3x 5 = 15
5 x 3 = 15
15 / 3 = 5
15 / 5 = 3
This will help you to learn the multiplication and division facts up to 12 x12 !
We have also been learning about square numbers and factors. We learnt that a factor is.......
Any numbers that multiply together to make the given number e.g.
Factors of 6 = 1, 2, 3, 6 because 2 x 3 = 6 and

1 x 6 = 6
We found all the factors of 24 which were- 1, 2, 3, 4, 6, 8, 12, 24.
THIS WEEK WE ARE LEARNING THE 3 X TABLE!

* REMEMBER YOU CAN HALF YOUR 6X TABLE TO HELP YOU*
We have also been looking at Prime Numbers. These are numbers that are only in the 1x table and their own x table. The children have been learning their prime numbers up to 50.........
2, 3, 5, 7, 11, 13, 17, 19, 23, 29, 31, 37, 41, 43.....
These are the prime numbers up to 100. Click the 100 square to try the prime number checker and to see prime numbers to 1000!!

w/b 13.10.14
This week in maths we will be looking at written multiplication and division strategies. We will begin using the grid method to multiply. This week we will be looking at the 7x table.

Here is an example of the grid method and how we use it in school. It works by partitioning the numbers and multiplying them all separately and then adding them back together. This can make multiplying large numbers much easier.

Click the picture above to watch a video which shows you how to multiply using the grid method
We have also been investigating some maths problems and have been explaining how we can solve them using mathematical reasoning and vocabulary.
If you would like to practice your addition and subtraction, please click below

WELCOME BACK AFTER HALF TERM !!
w/b 3.11.14
This week we are going to be looking at multipliction strategies, including the expanded method and the compact method of long mulitplication.
This helps us when we need to multiply larger numbers, but we still use our table and knowledge of x 10 and 100 to help us. This is what the expanded method looks like :

As you can see, the expanded method mulitplies each of the numbers out individually and then adds these to get the final answer. This is similar to the grid method, where we use partitioning to multiply.
We have also been busy making decimal number line using notepad and have been learning how to multiply by 20
* TO MULTIPLY BY 20 YOU CAN X 2 THEN X 10*
E.G 21 X 20 = 21 X 2 = 42.... 42 X 10 = 420 SO.... 21X 20= 420
THIS WEEK WE ARE LEARNING THE 9 X TABLE

Click on the picture above for a song to help you !!
As you might have spotted already, the units are increasing and the tens are decreasing- this can help you to remember your 9 x table !
You can also x 10 then subtract one of the number you are multiplying 9 by:
e.g 5 x 9 - 5x 10 = 50 ..... 50-5 = 45 so 5 x 9 = 45
We have also been playing countdown. This is a great way to enhance menatl maths skills in a fun way!
Click the picture to play at home =]

SQUARE NUMBERS!!
A square number is the product when a number is multiplied by itself
e.g 2x 2 = 4 so four is a square number. They are called square numbers because they make squares. Click the picture to listen to a song to find out more!!

2x 2 3 x3 4x4 5x5 6x6
W/B 10.11.14
This week we have been continuing with our extended method of multiplication. We have written word problems for a freinds to solve and we can now use this method independently!! We have also been playing loop games and a variety of maths games in our warm -ups.
+ THIS WEEK WE ARE LEARNING OUR 11X TABLE +
CLICK ME TO SING AN 11X TABLE SONG =]

* REMEBER YOU CAN X 1 AND X 10 THEN ADD THEM TOGETHER *
We have been playing loop games, which the pupil have really enjoyed. You can find these online to print off or you can click the picture below to visit 'topmarks' to play loop games on the computer.

w/b 17.11.14
This week we will be carrying on with written methods of multiplication. We will also be revising column addition and subtraction as well as solving a murder mystery!
TIPS FOR COLUMN ADDITION AND SUBTRACTION WRITTEN BY 6I:
* Always line up the digits in the correct columns
* Always remember your decimal point- this lies inbetween the units and tenths
* When you carry you need to carry the largest value digit ( this is normally the tens)
* Start on the right and make your way across
* When you borrow, remember to cross and write the remaining amount
* When you subtract, you always put the largest number on the top of the sum
*THIS WEEK WE ARE LOOKING AT THE 20X TABLE*

REMEMBER YOU CAN DOUBLE YOUR 10X TABLE OR X2 THEN X 10
Remember decimal numbers are less than 1 and are a different way to write fractional quantities.
1.0 = 1/1 = one whole
0.1 = 1/10 = one tenth
0.01= 1/100= one hundredth
0.001 = 1/1000 = one thousandth

As you can see tenths are larger then hundredths, hundredths are larger than thousandths and so on...... REMEMBER THE PIZZA ANALAGY!
The further away from the decimal point = the smaller the number!
We have also been using estimating when working out our problems.
We do this by rounding a number to the nearest 10, 100, 1000 and so on, which makes an approximate calculation much easier to add up mentally.
so........
25 x 6 = approximately 180
25 is closer to 30 so we can now do 30 x 6 ( we can use the method of 3 x 6 = 18 then x 10 = 180) 180
REMEMBER THE SYMBOL FOR APPROXIMATELY IS A WAVY EQUALS SIGN!

w/b 24.11.14
This week we have recapped on factors and multiples:
factors = numbers that can be divided into a given number e.g. factors of 24 are 1,2,3,4,6,8,12,24. 24 is a multiple of all of those numbers.
Multiple= sounds like multiply. Numbers thta jump up in equal steps e.g multiples of 5 are 5,10,15,20......
WE HAVE NOW STARTED A NEW TOPIC ON FRACTIONS!
Click below for a song to introduce you to fractions by Mr R

We have been playing a fun game called fraction action, that Miss Morgan made. We have to be able to find a shaded or unshaded part of a given fraction to earn pieces of pizza!
We have learnt that a fraction shows us parts of a whole. We use this in everyday life. Foe example: when cutting up a cake, pizza or pie into equal pieces and sharing it out. We learn that a fraction is written like this : 1/2.

Click above to learn about numerators and denominators!
The top number is called the NUMERATOR and the bottom number is called the DENOMINATOR ( TIP: REMEMBER D FOR DOWN and NU for NEVER UNDER).
The NUMERATOR shows us how many pieces are left/shaded/unshaded/taken and the DENOMINATOR shows us how many equal pieces the whole has been split into.
For example the fraction 4/5 tells us that the whole one has been cut into 5 equal pieces and we have 4 of those 5 pieces left.
Any fraction where the numerator is half of the deonminator is the same as a whole...............

We completed a book on shading in a given fraction and also drew fractions for our partner. Click below to play fraction bingo !

THIS WEEK WE WILL BE PLAYING BINGO TO RECAP ALL OF OUR TIMES TABLES.
We will now be looking at writing tenths, hundredths and thousandths as fractions. Decimal numbers are just fractions of 10's soooo....
0.1 = 1 tenth = 1/10 ( because we have cut our whole into 10 pieces and have 1 of those pieces)
0.2 = 2 tenths = 2/10 and so forth..........
0.01 = 1 hundredth = 1/100 and so forth......
REMEMBER ANY FRACTION WHERE THE NUMERATOR AND DENOMINATOR ARE THE SAME ( 3/3) IS THE SAME AS 1 WHOLE
If you need some extra revision please visit

www.mathstory.com

to visit Mr R's amazing maths page!
w/b 1.12.14 & 8.11.14
We have been continuing our work on fractions! We have been playing fraction action, which is so much fun!! However we have been extending our knowledge to simplifying fractions and also finding two fractions that make a whole.
Simplifying fractions is soo easy when you know how..........
e.g I want to simplify 5/15 to its' simplest form. We look for a common factor that we can divide both the numerator and denominator by ( sometimes the clue is in the numerator). Becuase we know our tables, we can say that 5 is divisible into 5 and 15, so we will divide the numerator and denominator by 5.
5 / 5= 1........... 15/5 = 3 so 5/15 = 1/3 and........
Remember if both the numerator and denominator are: both even you can always divide by 2, both 10, divide by 10, are a 0 and 5 divide by 5.
Click here to play a game - simplifying fractions !!
We have also learnt that two fractions with the same denominator can be added to make 1 whole.
e.g 2/9 and 7/9 = 9/9 = 1
We have practised this today and found it really fun!
Next we will be ....... finding a fraction of an amount and looking at improper fractions...
W/B 15.12.14
This week we have been working on equivalent fractions= fractions which may look different but have the same fractional value.
We also looked at finding a fraction of an amount e.g. 3/4 of 40
Firstly you find 1/4 so you divide 40 / 4 = 10
then becasue we need 3 quarters, we need 3 x 10 = 30 so 3/4 of 40 = 30
STRATEGY TIP - DIVIDE BY THE DENOMINATOR X BY THE NUMERATOR!
We have also been looking at percentages!
PERCENT MEANS PER 100!
SO.... 30/100 = 30 % ( THE % SYMBOL IS THE PERCENT SYMBOL)
so 3/100 = 3 %
See the picture above for strategies to work out % of an amount. Click the picture to listen to a great song that explains percentages.
JANUARY 2015
Welcome back! In this first week, we will be finishing our work on fractions by looking at ration and proportion and then moving on to mean, median, mode and range or MMMR!
A ratio compares values.
A ratio says how much of one thing there is compared to another thing.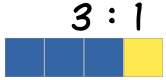 There are 3 blue squares to 1 yellow square
Ratios can be shown in different ways:
| | | |
| --- | --- | --- |
| Using the ":" to separate the values: | | 3 : 1 |
| | | |
| Instead of the ":" we can use the word "to": | | 3 to 1 |
| | | |
| Or write it like a fraction: | | |
A ratio can be scaled up and down, doubled or halved: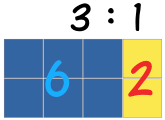 Here the ratio is also 3 blue squares to 1 yellow square,
even though there are more squares.
SOME REAL LIFE EXAMPLES OF RATIO ARE WHEN WE MIX PAINT OR WHEN WE USE A RECIPE!
Click the picture above to find out more!!
Proportion
says that two ratios (or fractions) are equal.
Example:
So 1-out-of-3 is equal to 2-out-of-6
The ratios are the same, so they are in proportion. Click here to find out more !
MMMR
The Mode, Median, Mean and Range are all averages. This means that they help us to find out information when we collect data. This could also be known as a calculated "central" value of a set of numbers. Another way of explaining averages is that they tell us what the 'norm' is.
FOR EXAMPLE: The government want to find out roughly across the U.K how much people earn. They would firstly have to ask people to complete a survey and collecte data for all of the different amounts people earn across the U.K. They could then use MMMR, to help them to find the aveage wage. For example the average wage might come out at £ 15,000. So that means that a large part of the people in the U.K earn around £15,000. Some might earn less, some might earn more, but for the most/ norm/ average, it would be around this number.

What does MMMR stand for ?
Click the picture for a song about MMMR!
How do we work them out ?
Mean = add all of the numbers in the data set, divide the total by how many numbers you have in the set !
Median = SOUNDS LIKE MEDIUM ( MIDDLE). You put the numbers in the data in ascending order and find the number in the middle. If you have an even set of numbers, circle the two in the middle, add them and then divide the total by 2 !
Mode = SOUNDS LIKE MOST. You put the numbers in the data into ascending order and look for the numbers that occurs the most. They may not be a mode in all sets of data.
Range= You put all the numbers in ascending order and then take the smallest number away from the largest number!
CLICK HERE TO LISTEN TO THE TOADS EXPLAIN!!
USE THIS RHYME TO HELP YOU =]
w.b 12.1.15
This week we are carrying on with our MMMR work. We have planned our own maths investigation to find out the average amounts of a set of data. Some children wanted to find out the average height, and others wanted to know, on average, much pocket money children recieve. We then created a tally chart and went to collect data around the school. We are now going to analyse our data using MMMR to find out the averages and write our conclusion.
We are going to crate a graph, learn about probability and also learn some of the vocabulary asscoaited with data handling. Please see below!
Please click here for your homework this week. This link takes you to a webpage where you can create your own bar graph. Your homework is to use this to make at least 2 different graphs to talk about next week =]
REMEMBER DATA MEANS INFORMATION, WHICH CAN BE SHOWN IN WORDS OR IN NUMBERS =]
In 'real-life' data is used all the time. E.g. TESCO will collect data on their products to find out which are most/least popular. This can help them to decide how many of each product to buy, which can help them to save money.
VOCAB TO KNOW AND LEARN =]
DATA= INFORMATION COLLECTED ( CAN BE NUMBERS, WORDS OR BOTH)
BAR GRAPH= A GRAPH THAT CLEARLY SHOWS INFORMATION IN BLOCKS
TALLY CHART= A TABLE THAT RECORDS INFORMATION IN TALLY FORMAT - REMEMBER YOU ALWAYS MARK DOWN FOUR AND THEN CROSS THE GATE FOR THE FIFTH ( THIS MAKES IT EASIER TO COUNT UP THE TALLY MARKS)
PROBABILITY= HOW LIKELY OR UNLIKELY SOMETHING IS, SUCH AS AN EVENT
PIE CHART= A CHART THAT SHOWS INFORMATION IN SLICES OR SECTIONS AND IS ROUND- LIKE A GIANT PIE!
ANALYSE OR INTERPRET= FIND OUT WHAT THE DATA IS SHOWING /TELLING Us
Click here to listen to Mr. Rhythmic' s song about probability , ready for next week.
Please remember probability is just another word for chance. E.G during January, it is likely that it will snow and be very unlikely that it will be very hot. See the scale below.
Think of some different scenarois. Where would they be on the scale? How likely is it that ..............
IF YOU WANT TO VISIT THE PROBABILITY FAIR, THEN CLICK THE FAIRGROUND PICTURE BELOW
PLEASE CLICK THE JANUARY 2015 TAB TO GO TO MY NEW PAGE FOR 2015
Miss Phillips Guided Reading: Wordwall Demo